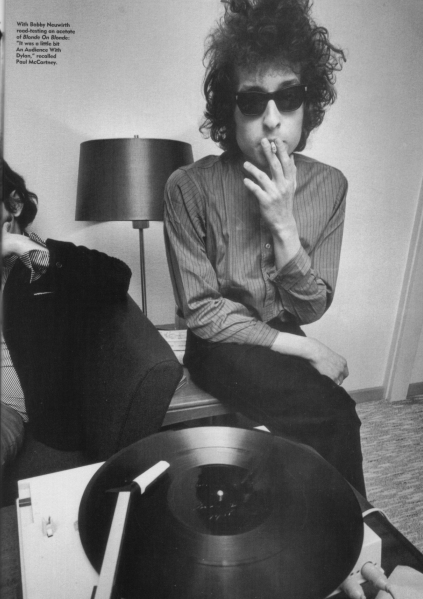 There are a number of published photos of Dylan apparently listening to acetates of Blonde On Blonde in a hotel room on the European leg of the tour. Some of these show discs with only two or three tracks on a side, clearly not corresponding to any of the sides of the released album.
This is probably because many acetates were cut at 45 rpm, so would have a shorter recording time per side than a 33.3 rpm disc. Furthermore the acetates were generally single-sided, so the whole album could have been spread across six or seven discs.
Other Blonde On Blonde acetates are known to exist which do play at 33.3 rpm and contain a full side of the album – or more. The single-sided 12" acetate shown below is essentially the first side of the album, but it contains two different mixes of "Pledging My Time" back-to-back, each with slightly different sonic characteristics. The reverse of the disc is date-stamped 5-5-66, which confirms that adjustments continued to be made to the mixes while Dylan was away on tour in Europe. Producer Bob Johnston may have brought the latest acetates over to England when he joined the tour for its final dates.