The issue of Cash Box dated July 9 1966 reported that Dylan's new album was gaining a lot of pre-release sales. This implies that when this issue went to press around June 30, the album was still not on general sale.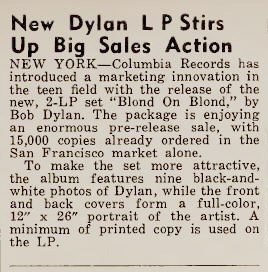 An appearance the same week in Billboard's New Action Albums column, reporting that the album had been getting strong sales by dealers, was therefore probably likewise based on advance orders.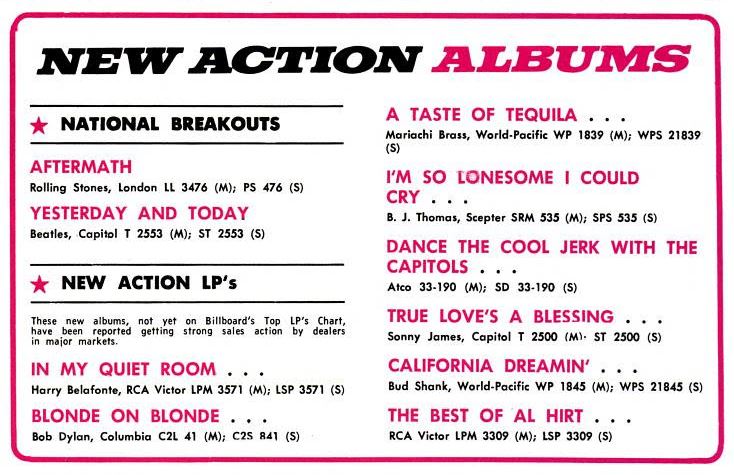 Consider also that the following week's edition of Cash Box (dated July 16) listed Blonde On Blonde as one of Columbia's new popular LPs for the month of July, suggesting that the company had given up on getting the record out in June.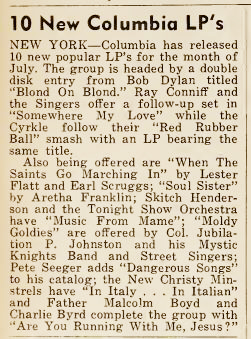 I have seen only one contemporary news item suggesting that the record was available any earlier than June 27, and that is a Columbia advertisement in GO, the news magazine of New York radio station WMCA. This issue is dated June 24, and says that the album is "NOW AVAILABLE!".
However, the magazine contains no review of the album, nor any other information about its contents or packaging. Given that all other evidence points to an earliest shipping date of June 27, it seems very likely that this advert was booked by Columbia's marketing department at a time when they thought the album was going to ship on June 20; and when the album was further delayed they either forgot to cancel the ad or decided just to let it run anyway.