Bob Dylan's 1965-66 Singles
As well as the three great albums that are the main focus of this site, Dylan also produced quite a number of 45rpm singles during 1965-66. Some of these A and B sides were not included in the albums of the period; and of those that were, some were edited or mixed differently from their album counterparts. It's also interesting to note the timing of the single releases, which often came ahead of the relevant album.
As the spring of 1965 came around, Dylan had very little history of releasing singles. In America there was the aborted "Mixed Up Confusion" of December 1962, and then "Blowin' In The Wind" in August 1963. The latter was doubtless released in response to Peter, Paul & Mary's massive hit with the song; but while the song certainly raised the public's awareness of Dylan, it seems that those interested chose to buy the Freewheelin' album – the single made no impression on the charts.
In the UK, Dylan had been given his first single release in early March 1965 with "Times They Are A-Changin'" – its title shortened thus, and backed with "Honey, Just Allow Me One More Chance" from the Freewheelin' album. The pairing of two songs from Dylan's earlier albums was well-timed to warm up the British public for Dylan's forthcoming solo tour, and the A-side fitted well with the year's fashion for folk and protest music. Dylan, of course, was elsewhere by now, as his next UK single was to show just a month or so later. "Times" reached No.9 in the UK charts Note in early April, but did not get a 45rpm release in the USA; over there, Columbia had already released the first single by the new, electrified Dylan.
Subterranean Homesick Blues / She Belongs To Me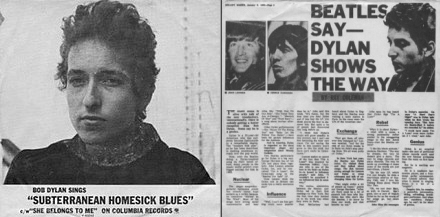 Dylan's first genuinely new single of 1965, comprising two tracks off the forthcoming Bringing It All Back Home album, was scheduled to ship in the US on 8 March 1965, three weeks ahead of the album itself; it probably appeared in stores a week later, on 15 March. Note Some promotional copies were sent out in a sleeve featuring on the front a portrait from the Another Side photo-shoot and on the back a reproduction of an article from a recent UK Melody Maker, reporting The Beatles' enthusiasm for Dylan. Both sides of the record are of course mono mixes of the songs, identical to the mono album tracks; Dylan did not issue a stereo single until "George Jackson" in 1971. In the UK, where "Times They Are A-Changin'" was still climbing the charts, "Subterranean" was held back until late April, a week or so before Dylan arrived for his solo tour. By early May it had hit its peak of No.6 in the NME chart, and it stayed in the top 20 for another four weeks.in NME); in the US, surprisingly, it hadn't made it past No.55 in Billboard's Hot 100.
Maggie's Farm / On The Road Again
This pairing of two more tracks from Bringing It All Back Home was released in the UK and Scandinavia, but not in the US. In the UK it came out in early June 1965, Note soon after its parent album was released; it entered the charts just as "Subterranean" was falling, but lacked the charm to get further than No.22 in any of them. Again, both sides of the single are simply the mono album tracks, with no further editing.

If You Gotta Go, Go Now / To Ramona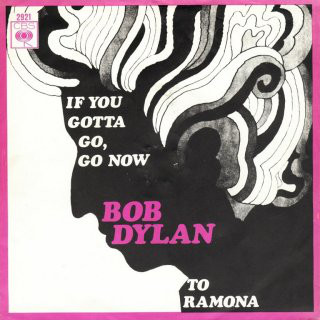 OK, you might think it's a bit of a cheat to include this single, which was not released until 1967, and even then only in in Holland, Belgium and Luxembourg. However, it does seem as though for a while it was intended to be Dylan's next US single after "Subterranean Homesick Blues". Possibly it was held back from Bringing It All Back Home for this specific purpose, in the same way that "Positively 4th Street" was held back from Highway 61 Revisited. And there is another piece of circumstantial evidence: on 12 May, after the final dates of his UK tour, Dylan went into Levy's studio in London and recorded a message to be played at the forthcoming Columbia Records sales convention, which was to be held in Miami in mid-July. The song he chose to perform (albeit briefly) as part of his message was "If You Gotta Go, Go Now"; this would have been congruent with a plan to release the song as a new single sometime in June, hopefully having it in the US charts by the time of the convention.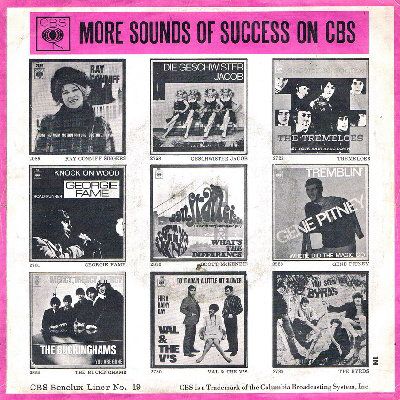 Then on 21 May, while Dylan was still over in Europe, producer Tom Wilson called in Angeline Butler Note to dub another backing vocal onto this song that Dylan had recorded, with her slightly reticent involvement, back in January. Wilson had made a composite of the first two takes from the earlier session, and the extra vocal was dubbed onto that; after a final mono mix-down the single was ready for release. Of course, when Dylan returned to America at the beginning of June, his head was full of "Like A Rolling Stone", and in comparison with that, "If You Gotta Go" must have seemed both distant in time and lightweight in feel. Perhaps Dylan just didn't like what Wilson had made of "If You Gotta Go"; but more likely he wanted to push forward with something new rather than put out this song that he'd recorded five months earlier, and had been performing live for several months before that. Note
Whether "To Ramona", from 1964's Another Side of Bob Dylan, was lined up as the B-side in May/June 1965 is impossible to know in the absence of any Columbia documentation; but perhaps it was, since it would have been a slightly odd choice for CBS in Holland to have made unilaterally in 1967. The single, released in mid-August of that year, failed to reach the Dutch Top 10 as reported in Cash Box; presumably it wasn't a huge seller in Belgium or Luxembourg either.
A different (and inferior) take of "If You Gotta Go" was released in 1991 on The Bootleg Series Vols.1-3; and in 2015 the collector's edition of The Bootleg Series Vol.12: The Cutting Edge included 'raw' stereo mixes of all four takes of the song from the original 15 January 1965 session – though with no sign of the vocal overdub from 21 May. But since the deletion of the 1967 Dutch pressing, this abandoned 1965 single in its final form has remained obstinately unavailable. Note
Like A Rolling Stone / Gates Of Eden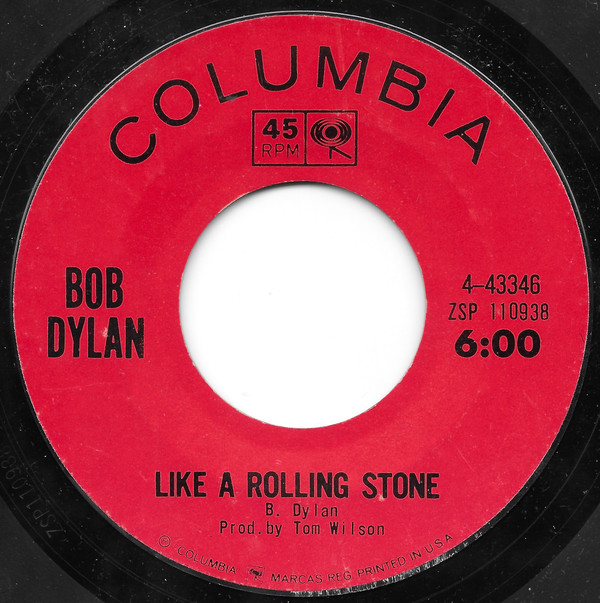 Although Dylan's two days of recording sessions in mid-June were officially booked to make a start on his next album, Note once "Like A Rolling Stone" was in the can it didn't take more than a few hours for Dylan and Grossman to realise that this had to be Dylan's next single. Colin Irwin's book Bob Dylan: Highway 61 Revisited gives an excellent account of the struggle with Columbia's sales and marketing people, who wanted the single split over two sides of a 45 so radio stations would play it; even after they thought they had won, some radio station copies went out with the song split in two; but all retail copies had the full song on one side and "Gates Of Eden" on the other.
When the identical mono mix was included in the Highway 61 Revisited album a couple of months later, the sleeve gave the track timing as 5:59; but the label of the single boasts 6:00. A difference of one second in six minutes is really splitting hairs in the world of analogue recordings, and it would be impossible to say with any confidence which was the "true" timing; but a six-minute single was always going to create more of a stir than a 5:59 one, so it was a good marketing decision, played up in Columbia's advertising of the single. Note
The choice of "Gates Of Eden" for the flip side seems a slightly strange one, given that Dylan had recorded good takes of two other amplified songs on June 15, either of which would have made a quite serviceable B-side: "Phantom Engineer" (later recast as "It Takes A Lot To Laugh, It Takes A Train To Cry") and "Sitting On A Barbed Wire Fence". Both songs were given proper mono mixes suitable for single release - these mixes appeared on bootlegs a few years later. Possibly Dylan was afraid that with "Like A Rolling Stone" taking twice the normal allocation of airtime, radio stations might opt to play a shorter B-side instead; well, there was certainly very little risk that they would play "Gates Of Eden". Dylan may have deliberately chosen a song that at 5:48 was nearly as long as the single's A side; certainly Billboard picked up on this: under the heading "TWO-MINUTE SINGLE PASSÉ?" they pointed out in their 17 July issue that the single offered almost twelve minutes of music in total.
While Columbia ambitiously set 28 June as their US shipping date for the single, it appears not to have reached the shops until at least a week later. (It received a brief review Note in Billboard's issue dated 17 July, which would have gone to press around the 8th.) The record took a long time climbing the charts, but made it to No.2 in Billboard's Hot 100 by the end of August; it stayed in that position for three weeks, only kept from the No.1 spot by The Beatles' single "Help!". In Cash Box, it actually made it to No.1 in early September. Over in the UK it was released in mid-August, Note and in the first half of September it rose to No.3 in the NME and Melody Maker charts.
Positively 4th Street / From A Buick 6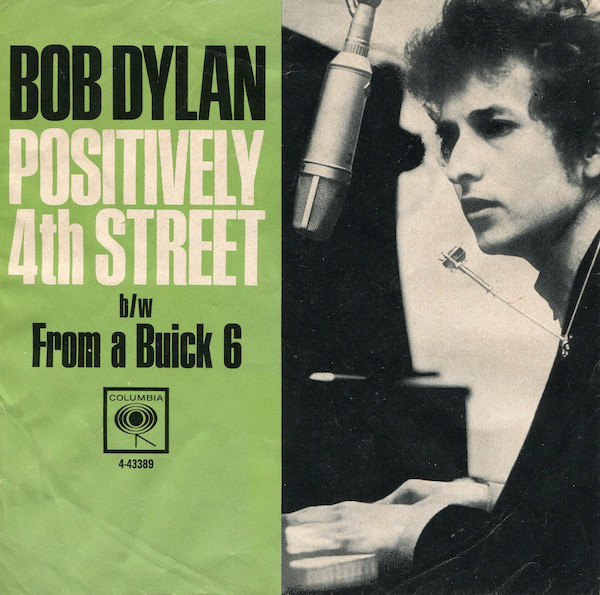 After completing the sessions for what became Highway 61 Revisited, Dylan kept back from the album the two most radio-friendly tunes he had recorded, choosing instead to include the already-released "Like A Rolling Stone" as the album's opening track. The two songs in question were "Positively 4th Street" and "Can You Please Crawl Out Your Window?". Dylan picked the former for his next single, to be released in early September; but confusion (most likely arising from his penchant for obscure titles Note) resulted in the master tape for "Crawl Out" being pulled out for release instead, along with "From A Buick 6", which had been chosen as the B-side. Lacquers were cut and sent out to two of Columbia's three pressing plants. Promotional copies, at least, evidently reached radio stations during the week commencing 6 September, and given the success of Dylan's previous single they lost no time in playing it on air. By the following Monday Columbia had realised the wrong song had been released, and were trying to get the radio stations to stop playing it. But by now the single was in the shops, and selling fast thanks to the airplay it was getting. Columbia hurriedly re-pressed the record with the correct A-side and got copies out to the radio stations a couple of days later.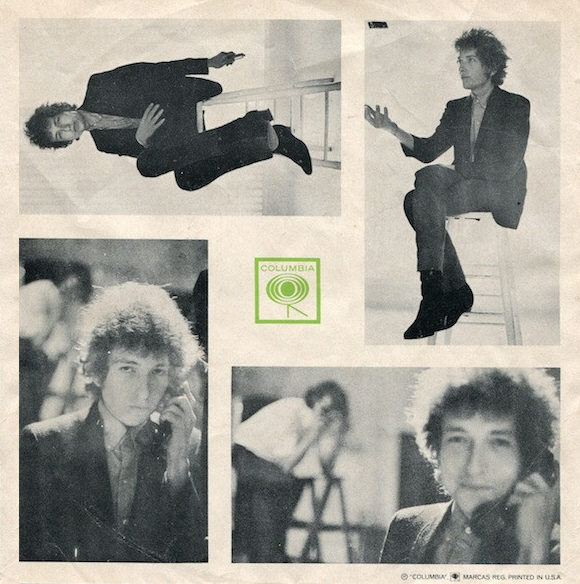 According to Billboard, Note Columbia's West Coast factory in Santa Maria, California, pressed 17,000 copies with the wrong song; many - perhaps all - of these went out to radio stations and stores in the western states. Note What we don't know is how many copies were snapped up by Dylan fans before Columbia recalled the single. Certainly the mis-pressed single is not as rare as has often been assumed. The mistakenly released mono mix of "Crawl Out" has never been issued on CD, but a 2015 stereo mix of this version (Take 17 from 30 July) was included in both the Deluxe and Collector's Editions of The Bootleg Series Vol.12: The Cutting Edge 1965-1966.
The corrected single went on to peak at No.7 in the Billboard chart in late October. In England it was released in early-to-mid October, though without the picture sleeve it had been given in the US; its highest ranking was No.8 in Record Retailer at the beginning of December.
The single was of course in mono, and the timing was 3:50. This original mix was included in the mono edition of the US Greatest Hits album (1967), but only received a CD release in 2010 on The Best Of The Original Mono Recordings. A stereo mix was made in 1965 or 1966 and first appeared, with a much longer instrumental ending, on a 'various artists' Columbia Record Club album called Disco Teen '66. This stereo mix was shortened the following year for inclusion in the stereo edition of Dylan's Greatest Hits, but it was still a few seconds longer than the mono mix. Later CD editions of the US Greatest Hits then switched to the long stereo version!
Can
You

Please Crawl Out Your Window? / Highway 61 Revisited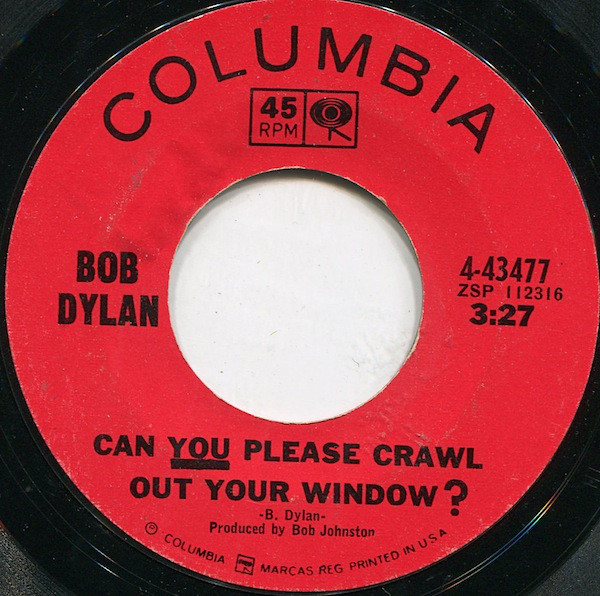 By October 1965 Dylan had hooked up with Ronnie Hawkins' old band, The Hawks, and had started touring with them. Dylan had very little new material at this point, but Columbia, having discovered his ability to get singles into the charts, were no doubt looking for a follow-up to "Positively 4th Street". Studio time was booked for 4th and 5th October, the budget allocation unusually being 'Singles' rather than 'Albums'. The first day was cancelled, and on the second Dylan and his road band managed to get down just one complete song, the lightweight rocker "I Wanna Be Your Lover". They had a stab at re-cutting "Can You Please Crawl Out Your Window", which they had performed at least once in concert Note, but failed twice to get through the first verse and then dropped it.
Then at the end of November Dylan had another session squeezed in between tour dates, again to try to produce a new single. By this time he did have something worth recording: "Visions Of Johanna" (at this point titled "Freeze Out"); and doubtless he was as eager to record this major new song as he had been to capture "Like A Rolling Stone" back in June. Fourteen attempts yielded several good, complete takes of the new song. Then, perhaps initially with the intention of recording a B-side, he returned to "Can You Please Crawl Out Your Window?". The arrangement was more ear-catching than on the fragments recorded in October; but Dylan, clearly in high spirits, treated it almost as a self-parody, his phrasing more exaggerated and with jokey ad-libs thrown in at the end ("You got a lotta nerve to say you are my friend, if you won't crawl out your window!"). However, Dylan soon concluded that "Freeze Out", at 7½ minutes plus, was too long to be released as a single without Columbia cutting it in half; Note so "Crawl Out" became the single, and in the event the title track from his most recent album was chosen as its B-side.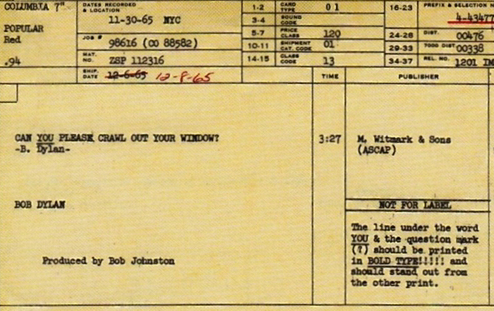 In accordance with the send-up style of this remade "Crawl Out", Dylan was very specific about how its title should be presented on the record label. The Columbia 'release card' for the single, reproduced in the booklet for the 2-CD The Best of The Cutting Edge, carried his instructions under the rather ironically mis-typed heading NOT FOR LABEL. The instructions were carried out very literally, at least on the US label - see the illustration above.
The release card also shows that the single's shipping date was initially set for 6 December – barely a week after it was recorded – and then amended to 8 December. There have been claims that the single did not appear in shops until the end of December or even early January, but by the time Billboard's Jan 1, 1966 issue went to press on 23 December the single had somehow managed to enter the Hot 100 at No.99, so it must have reached the shops (in major cities, at least) within a week or so of its revised shipping date. Despite this promising start the single was a relative flop, getting no higher than No.58 in Billboard. It fared rather better in the UK, where it was released in mid-January: Note it went straight into the Record Retailer chart at No.17 on the 27th of that month, and though it got no higher than this, it stayed in the top 40 for several weeks.
The original mono mix from the single's A-side has appeared on a number of compilations, including the still-available Biograph (1985). Note
One Of Us Must Know (Sooner Or Later) / Queen Jane Approximately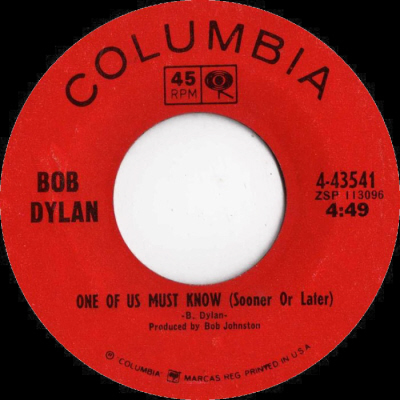 Before embarking on his first concert dates of 1966, Dylan had a string of seven sessions booked at Studio A in New York, starting on January 20. According to the budget allocations for the sessions, these were now for the purpose of recording his next album. In the event, four of the dates were cancelled, and the remaining three sessions only produced one finished song: "One Of Us Must Know". This was a song that he pretty much cooked up from scratch at the session on January 25, following his failure a few days before to get even one usable take of the much more ambitious "She's Your Lover Now". It had some similarities with that great abandoned song, but really got by more on the strength of the musical performance than on the quality of the writing. The key ingredients here were the piano and organ, from Paul Griffin and Al Kooper respectively, and of course Dylan's voice. The mono mix was edited to remove a poorly timed transition into the final verse, by simply repeating the transition into the second verse; for further details see the discussion of the song in this article. The single was included unchanged in the mono edition of Blonde On Blonde, which was finally released four months later. This mono mix was also notable for ending at full volume; the stereo mix made for the album was faded out. A shortened (3:07) radio station version of the single used the same edited mono mix but faded out just before the start of the last verse.
The single was set to ship on February 14, the day Dylan started recording for Blonde On Blonde in Nashville. By the middle of March it had crept up to No.119 in Billboard's "Bubbling Under" section, but that was as far as it got. Again, this single did a little better in the UK: released in early April, Note it reached No.33 in the Record Retailer chart at the beginning of May, just as the next Dylan single was being released.
Rainy Day Women #12 & 35 / Pledging My Time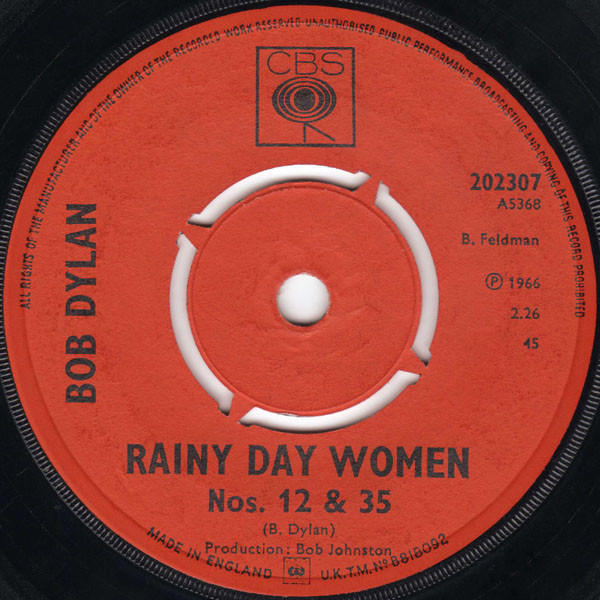 Although Dylan's sessions in Nashville were essentially for recording his next album, what he captured there actually made for better singles too. At the second set of Nashville dates in early March, he came up with the novelty song "Rainy Day Women #12 & 35". Sounding like a debauched Salvation Army parade (though with a message the Salvation Army would have been most uncomfortable with), it was a natural for his next single. To make it sound a little livelier the mono mix was speeded up by about 2%; and to maximise its chances of airplay the single version was edited down from over 4½ to under 2½ minutes, by the removal of the third and fifth verses. The B-side was another song recorded at the March sessions, "Pledging My Time". This edit was made from the early Nashville mix later released accidentally on Canadian and UK mono pressings of Blonde On Blonde. The unedited mix was a shade under four minutes long, but with the second verse cut out and the song faded out even before the end of the penultimate verse, the 45rpm edit ended up at only just over two minutes. Note The single was set to ship on 22 March, less than two weeks after the A-side was recorded. It was evidently received with enthusiasm by radio stations, and was already selling strongly by the first week in April (Billboard, 16 April 1966). It eventually reached No.2 in the Billboard chart in mid-May. Released in the UK in early May, it entered the charts very quickly and climbed to No.7 in Record Retailer by the end of that month. Here the title was printed with "Nos. 12 & 35" instead of "# 12 & 35", because the symbol # was unfamiliar in England at that time (and in this usage still is, to a large degree).
I Want You / Just Like Tom Thumb's Blues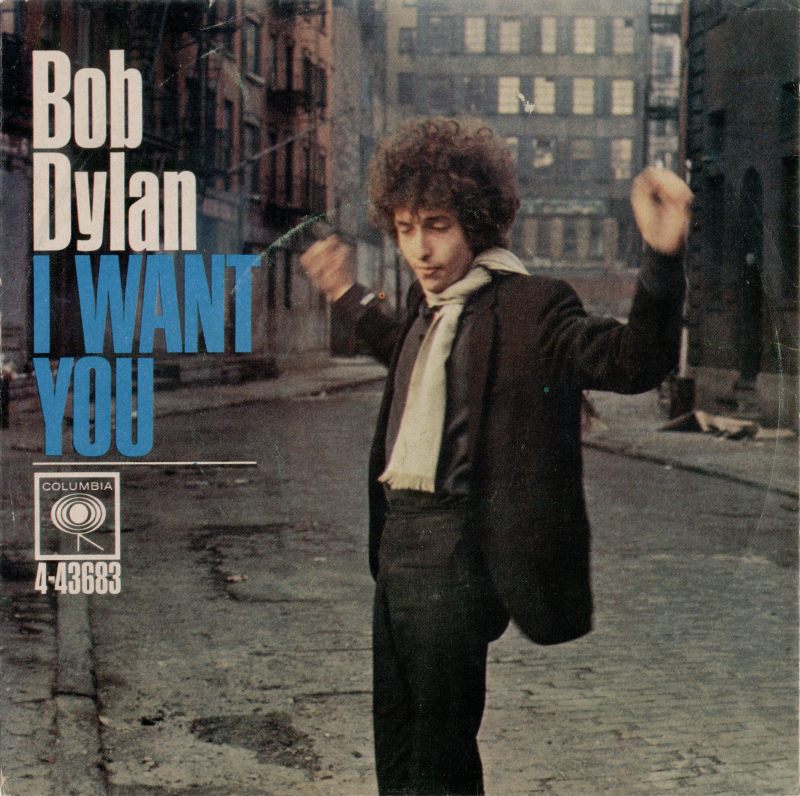 Dylan's next single, the second taken from the Nashville Blonde On Blonde recordings, was "I Want You". Note It shipped on 10 June, a couple of weeks ahead of the album itself, and received a brief review in Billboard dated 25 June (published 18 June): "Unique, easy-go lyric ballad with solid dance beat backing should quickly replace his hit, "Rainy Day Women Nos. 12 & 35."" And so it did; the next week's issue saw it enter the singles chart at No.90, and it eventually rose to No.20.
The B-side was another side of Bob Dylan altogether: a sample of his apocalyptic live performances with The Hawks in England, in the form of "Just Like Tom Thumb's Blues" from Liverpool. Note To anyone used to the rather melancholy studio recording of the song on Highway 61 Revisited – and indeed to anyone who had just listened to the single's cheery A-side – this scabrous live version came as a real shock. It's hard not to think that Dylan relished putting out such a Jekyll-and-Hyde single when his popularity was at a high point.
This was Dylan's second single to be issued in the US with a picture sleeve as standard: a colour photo of Dylan taken by Jerry Schatzberg in Jacob Street, Lower Manhattan. The sleeve was the same on both sides, making no mention of "Just Like Tom Thumb's Blues". This might perhaps suggest that the choice of B-side was made fairly late in the day.
In the UK the single (without a picture sleeve) came out in mid-July, and peaked at No. 16 in the Record Retailer chart of 11 August.
"I Want You" turned out to be the last single Dylan put out before his late July motorcycle accident occasioned a major slow-down in his career. Columbia continued to release more singles from Blonde On Blonde, but how much input Dylan himself had to these selections is anyone's guess.
Just Like A Woman / Obviously 5 Believers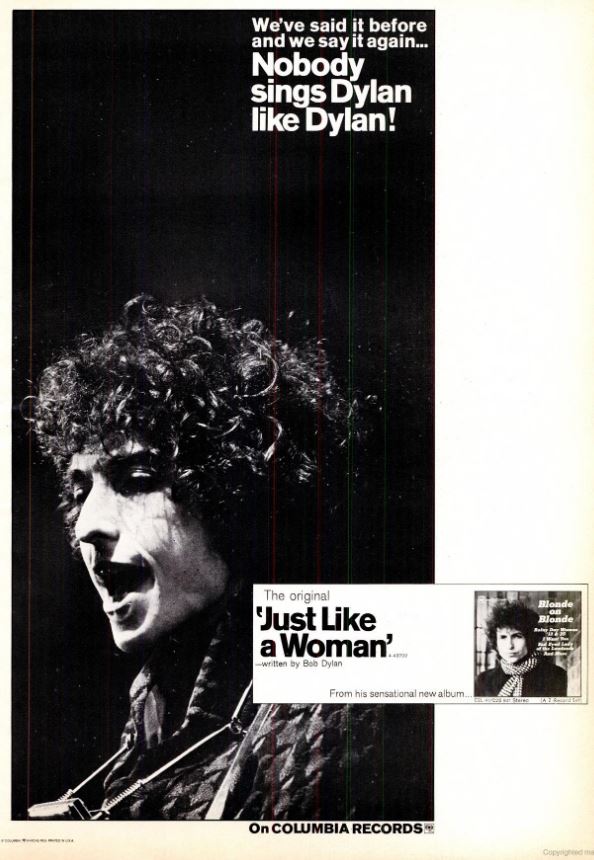 While all kinds of rumours circulated about just how badly Dylan had been injured in his 29 July accident, Columbia prepared another single for shipping on 18 August. The internal 'release card' document, reproduced in the Collector's Edition of The Cutting Edge, was prepared only three days before. While it's tempting to see this as the record company hastily cashing in on Dylan's mishap, there's another possible reason, suggested by Columbia's advert for the single in Billboard (issue dated 27 August 1966). Under the now admittedly clichéd "Nobody sings Dylan like Dylan" banner, the single was touted as "The original 'Just Like a Woman'"; presumably this was setting it up against Manfred Mann's recording of the song, which had just been released as a US single (in the UK it had happened to come out on the exact day of Dylan's accident).
Whatever the motivation, the single certainly wasn't a difficult one for Columbia to rustle up quickly: two more tracks from the final mono mixes of Blonde On Blonde. The only extra work was editing "Just Like A Woman" for the benefit of radio play. The second verse, whose mention of amphetamine would probably have ensured no radio play at all, was removed entirely (as it had been from Manfred Mann's version), and with the closing harmonica solo faded early, the track was reduced from 4:52 to 2:56. This edited version was used for the commercial release as well as for radio station copies. The B-side, "Obviously 5 Believers", was lifted straight from the US mono Blonde On Blonde, with no editing.
In the event, the Manfred Mann single (their first without the trademark voice of Paul Jones) failed to chart at all in the US, and the Dylan version got no higher than its No.33 Billboard ranking of early October.
While the single was released in many other countries around the world, CBS in the UK gave this one a miss: Manfred Mann's version of the song was already a top 20 hit over here, and in any case Dylan was still in the charts with "I Want You".
Leopard-Skin Pill-Box Hat / Most Likely You Go Your Way And I'll Go Mine
As Dylan's self-imposed exile from public view stretched on into 1967, Columbia first put out the Greatest Hits LP at the end of March, and then the final single from Blonde On Blonde in late April. Note Once again, the A-side was severely edited for the benefit of radio programmers: the opening instrumental verse (with Bob on 'lead guitar') was mostly skipped, fading in just before the turnaround into the first sung verse; the third and fifth verses were cut out; and the closing instrumental verse (with Robertson soloing) was faded out about 20 seconds early. All of this reduced the timing from 3:56 down to 2:20. The track also sounds different from any of the three mono mixes found on different editions of Blonde On Blonde. The vocal (only) has a noticeable echo, and the balance between the three electric guitars is rather different than on any of the mono LP mixes. It's just possible that the single was edited down from a fourth mono mix made for the album but not used at the time; but it seems more likely that the remixing and editing were done at the same time, specifically for this later single release.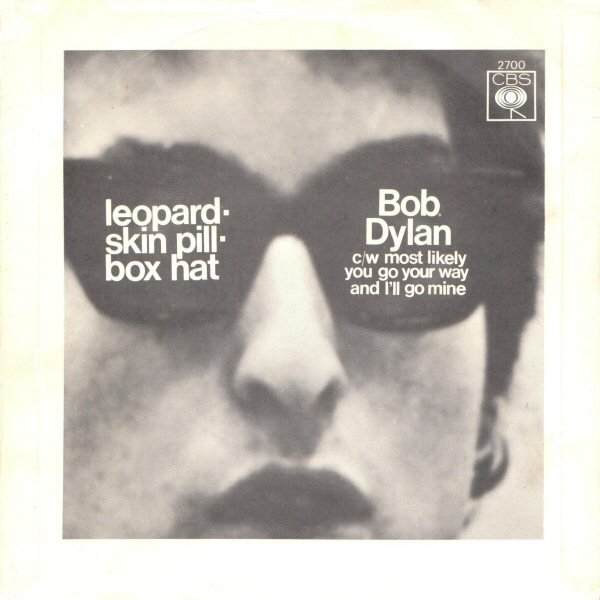 The B-side, "Most Likely You Go Your Way And I'll Go Mine", rather surprisingly (and I imagine accidentally) used the early mono mix that had found its way onto the Canadian mono album; this was very much dominated by Kenny Buttrey's driving snare drum and Al Kooper's organ, with the clanging and jangling electric guitars kept to a minimum.
According to Billboard's brief review (6 May 1967), "Both rhythm sides offer strong dance beats and compelling Dylan lyrics loaded with teen sales appeal"; but despite these benefits the single only made the lower reaches of the Hot 100, peaking at No. 81 in early June. In the UK, CBS gave initial copies of "Leopard-Skin Pill-Box Hat" a picture sleeve - almost unheard of in Britain back then. This was probably inspired by The Beatles' use of a picture sleeve for their "Strawberry Fields Forever"/"Penny Lane" single; but while the Beatles' record spent several weeks at No.2 in March 1967, Dylan's (released in early May) failed to make the charts at all.
It's notable that around this time, both the UK and US Greatest Hits albums (different sleeves and somewhat different track listings, but essentially the same idea) were selling very well, both getting to around the No.10 position in the respective LP charts. So it seemed that Dylan's time as a popular singles artist was largely over, and most of his fans were now growing up into buyers of albums rather than singles. Dylan did go on to have the occasional top 20 hit in the future ("Lay Lady Lay", "Knockin' On Heaven's Door"), but his albums were the backbone of his career.
Postscript: The Cutting Edge
In 2015, seven-inch vinyl pressings of most of the above singles were included in the Collector's Edition of The Bootleg Series Vol.12: The Cutting Edge 1965-1966. Their inclusion was a nice idea, particularly for the American market, as the original US pressings were mostly made of styrene rather than vinyl and so are hard to find in good condition. (For further information see this page about manufacturing materials.) And of course from Sony's viewpoint it was a useful deterrent to anyone wanting to produce counterfeit copies of this very expensive box set.
But while the mixes and edits are all the same as on the original singles, the sound is often substantially different. In the 1960s, singles were generally cut as 'hot' and loud as possible, so they would come across well enough on AM car radio; and the shorter the record, the louder it could (and generally would) be cut. So there were big differences, for example, between the 6-minute "Like A Rolling Stone" and the 2½-minute "Rainy Day Women #12 & 35". These reissues are much more uniform in sound; the volume and tone are generally closer to the corresponding cuts on the mono albums that they were (mostly) taken from. In one or two cases the sound is just too polite for the good of the music; "One Of Us Must Know", for example, just sounds dull. But it's an interesting approach to have taken, given that most listeners will now be using much higher fidelity equipment than they had available in the 1960s. It also meant that those wishing to make a listenable digital compilation of these singles would not need to make adjustments in volume to their digital transfers.
All the Cutting Edge singles came in picture sleeves, but only "I Want You" was in a facsimile of its original US sleeve. The rest had new designs, based (sometimes rather loosely) on various international releases of these singles from the 1960s. (Sadly, the rather nice UK sleeve for "Leopard-Skin Pill-Box Hat" was overlooked.)
Missing altogether from this Cutting Edge set were the UK-only "Maggie's Farm", the Benelux-only "If You Gotta Go, Go Now" and the mistaken US release of the early "Can You Please Crawl Out Your Window" (under the guise of "Positively 4th Street"). The first of these was no great loss, since both sides can readily be heard on mono reissues of Bringing It All Back Home; but the other two, containing unique mono recordings, could have rounded out the package nicely, particularly if they had been produced to the same standard of sound quality. We can only hope that these omissions will one day be remedied in some fashion, and with digital copies available too (please). A comprehensive CD compilation of Dylan's mono singles from 1962 to 1971 would make a very worthwhile belated addendum to the Original Mono Recordings box set.
Last updated June 2021